16 Dec

Snacks in Dallas Fort Worth Are Multi-Purpose
What do you think of when you think about snacks? Is it about something sweet or salty that you enjoy between meals? Or maybe it's something a bit healthier that is enjoyed instead of a traditional meal. Today, Dallas Fort Worth employees have a lot of options for meeting their daily caloric and hydration needs, and snacks play a big part.
Snacks, found in both vending machines and micro-markets, have one or more of the following purposes: nourishment, optimization, and pleasure.
Sweet or Salty Snacks
I have some good news. Traditional sweet and salty snacks are here to stay. During the past year, salty snack sales jumped by double digits. Chocolate and other candy sales also increased. While sweet and salty snacks are most often consumed as a reward or indulgence, many Dallas Fort Worth employees also use a trip to the office break room as an opportunity to enjoy new flavors and textures.
Certain snacks have always and will continue to play the role of a sweet or salty treat, but in 2020, many snacks have a new purpose.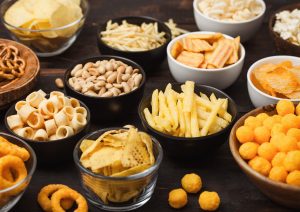 Healthy Meal Replacements
Snack food eaten at mealtime represents at least 25 percent of all snack food consumed. Dallas Fort Worth employees are looking for a mental or physical energy boost. They also have high expectations about the quality of the ingredients that they put in their bodies.
Unfortunately, many employees have a hard time understanding the information on product labels. As a result, they are more likely to choose a product that has clearer and more accurate product information. Employees are also more willing to pay more for snacks, beverages, and fresh foods that weren't made with "bad" ingredients. Fresh, organic, clean, and Fair Trade are just a few of the terms Dallas Fort Worth employees are looking for in the office break room.
A micro-market offers your Dallas Fort Worth employees a wide range of healthy fresh foods, sweet and salty snacks, and beverages that can be enjoyed at any time of the day. It's a great spot to grab a bite to eat and catch up with colleagues during the workday. To learn more about updating your micro-market or about our other vending solutions, contact TGL Vending at 214-477-6195.